Rubbish Clearance
Are you in need of cheap rubbish clearance near me in Dulwich, Tooting or Dartford? Been looking for rubbish clearance services Greenwich, Bromley or beyond but are struggling to get that cheap, local deal? Latham Skips can help. From domestic to commercial needs, we're professional, trusted and accredited – meaning that no job is too big nor too complex for our experts to handle. Hire a skip or our man and van rubbish clearance service and you get access to some of the best prices in Merton and Croydon for waste removal and management. If you're overseeing a rubbish clearance, a commercial disposal or simply have a ton of junk and trash that needs recycling or disposing of at short notice, we may be able to come visit you the same day you book with us – you never know until you get in touch. We're completely focused on eco rubbish clearance – meaning that if you're looking for rubbish clearance Surrey or South East London – or even Kent – going with Latham Skips means going with an environmentally responsible firm who will endeavour to make sure as much of your refuse is recycled as possible. How many other skip hire firms in Wandsworth or Purley offer that standard of care?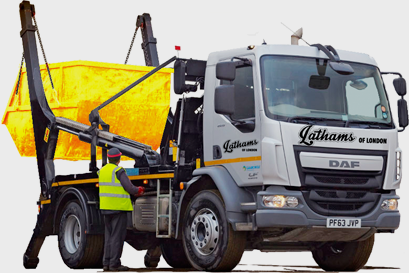 Cheap Rubbish Clearance
Don't worry about local rubbish clearance prices – we're always up front on the cost of rubbish removal near me or elsewhere in our region. Rubbish clearance near me in Sutton and Lambeth is available from Latham Skips at a fraction of the cost you'd expect near to London or elsewhere in the South East – we're experts in heavy duty rubbish removal, meaning that if you need building rubbish removal or construction rubbish collection, we're only ever going to be too happy to help. Rubbish removal London and beyond should never break your budget – which is why we always ask for details from you before we get started. Call in, and you'll get a free, reliable quote for exactly as much support as you need – we'll take care of all your heavy duty refuse so you don't have to make any awkward trips to the local dump with a stack of waste any time soon. Skip bags and skip bins are available, too – whether you rent a skip from us or take advantage of our man and van hire, we'll support you as far as we possibly can.
Bulk Rubbish Collection Dartford
Need to get rid of a ton of rubbish that simply hasn't been collected? Either hire a skip or get our team of experts on hand to take it all away for you. Arranging for a council pick-up or to get everything moving down the local dump isn't always as simple as it could be – meaning that it's more than time for you to start looking into cheap, affordable ways to get your waste management in check. Rubbish bin collection Sydenham or elsewhere, we can be on hand for you. Garbage dump runs and garbage collection services are just part of what we offer – we've worked with thousands of companies and businesses in our area over the years – we know exactly what you're looking for!
Call Us for Surrey Garbage Disposal
Need a hand getting rid of bulk waste at short notice? Call Latham Skips today on 0208 778 9008 or book online with us – don't risk carting everything down to the local dump when we can arrive with you and take everything away in just a matter of days. We also offer same day collection and clearance – call us or email us to learn more at your convenience!