Skip Hire in Bromley and South East London
Welcome to the online home of Lathams, The professional choice for skip hire in Bromley and the surrounding areas of South East London and Kent. We're a fully independent and family-owned business established in 1942. Still under the ownership and operation of the Latham family, we trade from the fully equipped Lathams Recycling Centre in Sydenham and cover an 8 mile radius of Bromley.
Our convenient location makes our business ideal for skip hire in Sydenham, Catford and beyond. We have our own fleet of mechanical trucks that deliver skips to your home or commercial property on time, every time. Call us today for a competitively priced quote on 0208 778 9008 and we'll arrange a convenient delivery at a time to suit your personal or business project requirements.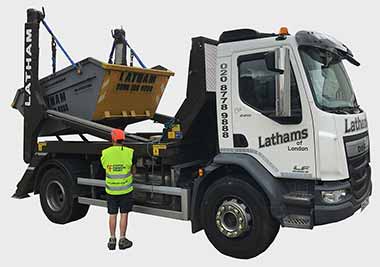 Looking for cheap commercial or industrial skip hire in Croydon? Trying to find a trusted and affordable skip rental firm across South London, the South East and South West? Look no further than Latham Skips. With several years in the rubbish and waste disposal trade, our professional team of experts can be on hand to assist with collections, disposals, removals, dump runs and more besides – our fleet of vehicles and rubbish skip essentials can be on hand to help pick up all your junk and trash whenever you need it removing. Just call us or go online to grab a free quote to hire a skip with us at short notice – we are the best in our region – across Dartford, London and beyond – in reliable, top quality waste clearance and recycling – and what's more, you may even be able to hire us for a low cost same day clearance. Just take a look and book a skip online with us today and we'll see what we can do for you as soon as possible! Looking for local skip rental experts in Sydenham, Surrey or Kent? Read on to learn more.
Why Rent a Skip?
Professional, reliable skip hire in Bromley or Bexley should never have to be expensive – our cheap, affordable skip rental services are available throughout the year for commercial projects alike – meaning that we also support a wide range of skip sizes and prices to ensure you always get the best receptacle, skip bags and skip bins to fit your budget. Rent a skip with us and you don't just get a skip lorry – you get access to local skip experts who genuinely care. We are experts in waste recycling and waste clearance, too – meaning that hiring us is a responsible decision if you genuinely care about where your refuse is going to end up. Hire a skip for a day from us and you save yourself a trip to the local dump – rubbish clearance and rubbish collection has never been so easy nor so affordable to arrange in Greenwich, Southwark or Lewisham. For Lambeth waste management or Carshalton rubbish removals you won't break the bank on, Latham Skips are here to support all of your needs and more
Large Skip Hire Near Me
As local skip rental suppliers in Sutton, we know only too well that no two rubbish collection needs are going to be the same. Need a 2 yard skip to hire? How about 4 yard skips – or even 10 yards, 12 yards, 14, 20, 35 or 40 yard skips? All the way from mini and small skips in Purley and Epsom up to RoRo skip hire in Crystal Palace, Latham Skips has you more than covered. We love helping local businesses and industries – meaning that if you're in need of a man with a van in Tooting or Dulwich, or are looking for cheap large skip hire in Richmond upon Thames, we are the reliable and dependable London and Surrey experts and specialists you are looking for.
Affordable Skip Hiring
Many people don't hire man and van or same day skip hire services because they are worried about the cost – here at Latham Skips, we aim to provide you with a reliable quote before you even agree to go ahead. That means there are never any nasty surprises, and it also means that you can budget ahead. Whether you're overseeing a domestic project, a large scale commercial or industrial clearance, we will be able to find you the right size of skip for all rubbish disposal and waste removal needs in Wandsworth and beyond. Rent a skip in Merton or hire and skip in Sydenham with Latham Skips and you'll get a solid quote, a team of experts who will help you from start to finish – and you'll save yourself the hassle of arranging for your waste clearance on your own terms. We're all about saving our customers and local businesses time and money – and if you book a skip online with us, you may just be able to get access to our skip lorry vehicles the same day you enquire – as well as to a quote which will be based entirely upon your needs and the type of skip you wish to rent. This means you're always up front on costs.
Rubbish Clearance for Less in Mitcham
Latham Skips are happy to handle large scale rubbish collection and waste clearance needs no matter where you are across London, the South East and the South West. Whether you need to hire a skip for a day in bromley or if you'd prefer to access our same day man in a van hire in Kent or Dartford, we'll be on hand and with you as soon as you need us. Some skip hire firms in East London and beyond fail to offer a wide enough range of skip sizes to their customers – with RoRo skip hire, 40 yard skips and more besides to pick from, we will work with you to find the best possible skip bin for your project – for industrial collections, clearances and more besides. Just let us know exactly what you're looking for and we'll deliver you a bespoke quote tailored to your expectations – each and every time. Why not give us a go?
Call Us Today
Latham Skips are available for skip hire and rubbish clearance rental in Croydon, Kingston upon Thames and beyond – and while you can always book a skip online with us today, you are always free to call in and speak with the team to find a great deal on all the rubbish you need taking away. Let us save you a trip or two to the dump – there's never any need for you to take it all on yourself! Call Latham Skips on 0208 778 9008 or book online – and you can also gain access to our same day skip hire service, which means you can get the rubbish clearance you need arranged and underway sooner rather than later.