Skip Hire
Looking for cheap commercial or industrial skip hire in Croydon? Trying to find a trusted and affordable skip rental firm across South London, the South East and South West? Look no further than Latham Skips.
With several years in the rubbish collection and disposal trade, our professional team of specialists can be on hand to help you with removals– our fleet of vehicles and rubbish skip essentials can be on hand to help pick up all your junk and trash whenever you need it removing.
Just call to hire a skip with us at short notice – we are the best in our region – across Dartford, London and beyond– and what's more, you may even be able to hire us for a low-cost same day clearance.
Just take a look and call us today and we'll see what we can do for you as soon as possible! Looking for local skip rental experts in Sydenham, Surrey or Kent? Read on to learn more.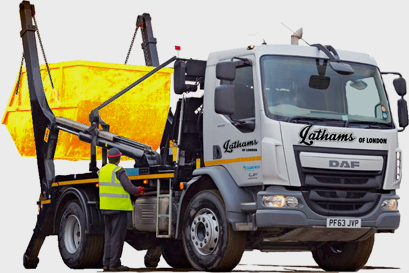 Cheap Local Skip Hire
Rent a skip in Bexley or Sydenham and you may not necessarily get access to the best prices – call us to be first to learn more about affordable 2 to 40-yard skip hire in Crystal Place, Sidcup and Greenwich alike.
Cheap skip hire prices are an absolute must – we understand that industries and businesses will be looking to save money on hiring skips and clearance services wherever possible – and in addition to our team of leading experts saving you as much cash as possible, we're also here to save you time and effort.
Cheap skip hire near me in Dulwich, Croydon and Tooting is now easier than ever to come by – and as you can see from our various skip bins and options to choose from, we cater to all manner of waste removal.
Whether you're looking for large skip hire Mitcham or beyond, we're the team to trust.
Large Skip Hire Lewisham
We're proud to be able to support as many local commercial buildings and businesses as possible with our staggering stack of skip sizes and affordable prices.
Skip hire services from Latham Skips come with a quote guarantee – you can count on us to offer you a reliable quote when you book via the phone – so you can say goodbye to any nasty surprises or hidden charges along the way.
We like to be upfront on costs – and if you need same day large skip hire in Purley or Dartford, we'll get our vehicles out to you as soon as possible.
We really are the best at what we do – and we'll continue to offer you rubbish removal services at the best prices in London, Kent, Surrey and beyond.
Take a look at our range of skip sizes and contact us to learn more about specific quotes or pricing if you need to – we're flexible so you don't have to be.
Cheap Skip Hire Prices London
Finding a low-cost rubbish skip in Surrey or elsewhere can be tricky – but we'll offer you a solid, reliable quote from our leading team just as soon as you get in touch with us.
Let us know your needs – and we can take care of all your rubbish to ensure you never have to make any tricky dump trips yourself.
Call us today on 0208 778 9008– and take a look at some of our brilliant skip hire before you think about paying a single penny! From the South East right into the heart of Kent – we've got you covered.