Builder Skip Hire
We are on hand to offer a specific range of skip hire options that are available for building sites, construction waste clearance and more besides.
On a commercial or industrial basis, you are going to need an affordable builder skip that does the job well – from an 8 yard to 10 and 12-yard models, we have mini to large skip rental options to help you get everything you need cleared out and taken away at your convenience.
It's ultimately our job to save you from having to undertake a dump run or two – and we have builder skip options to fit all budgets.
Looking for cheap builder skip rental in Surrey, South East London or Kent? Latham Skips will have you covered.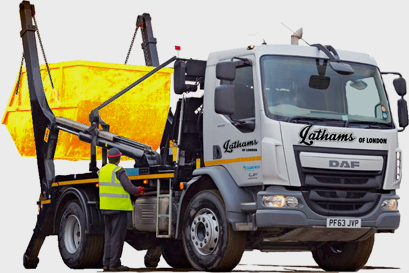 Commercial Skip Hire in Croydon
Whether you need to hire a skip in Greenwich, Purley, Lewisham or beyond, Latham Skips has a fleet of skip lorry vehicles and a wide range of builder skip sizes available to ensure that you have a professional quality skip bin and the relevant helping hands to support you with all your large-scale refuse needs.
Getting rid of junk and trash from construction and building sites isn't always easy –you are going to need to find the right size skip with the right firm to support you as soon as possible.
Overseeing a project in Bromley, Dartford, Dulwich or Tooting? Hire a skip from us and you'll have access to a brilliant, affordable builder skip the same day you call – wherever possible!
Call our team today, we're always happy to help.
Waste Clearance for Construction and Building
Need a same day skip rental service that's low cost and ready to be with you any day of the week?
Hire a skip for a day in Croydon, Bromley, Crystal Palace or beyond – and we will make sure that you only ever receive the best 10 or 12-yard skips for your given project.
We'll ask you for a few details on what you need from a skip and we will make sure that we line you up with the perfect skip for the job you need to oversee.
We'll always make sure to advise you on the most affordable option for your needs – never pay more for what you need.
Builder skips to fit all budgets– that's what Latham Skips stands for, and beyond that, we're here to make sure you have as much physical support as possible standing by to take care of all the heavy-duty removals for you.
Cheap Builder Skip Rental in Surrey
Getting the right builder skip for low cost can be difficult throughout our local area as well as elsewhere – it therefore, makes perfect sense to seek out a firm which emphasises top quality care and skip bins, as well as a focus on low-cost hiring, solid aftercare and guidance.
Latham Skips have more than a few years of expertise in the trade and in working with businesses and companies throughout our region – meaning that we know exactly what our customers and clients are looking for from a reliable and dependable skip hire company – one which offers massive savings, too!
Call us today on 0208 778 9008.