Large Skip Hire
For rubbish removals, larger skips are sometimes a must. Latham Skips offer a vast range of different skip sizes at prices which will always be agreed with you via a quote up front and ahead of any work being completed.
Large skip hire costs can vary from region to region – but if you're looking for large skip hire in Bromley or elsewhere in Kent, Surrey or South East London, we have both a solid range of 20-yard and industrial skip bins, as well as a healthy focus on keeping things as low cost as possible for you.
Large skip hire prices are available from our team of accredited and licensed experts at any time – we may even be able to supply a larger skip to you the same day you call.
Therefore, if you need a skip lorry in Coulsdon, Bexley, Lewisham or a larger builder skip in Croydon or Orpington, we're the team you need to get in touch with today.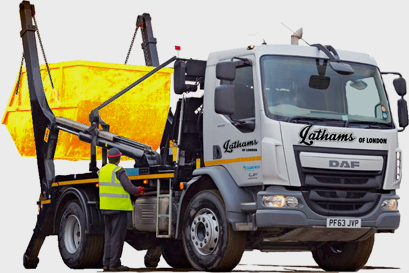 Big Sizes Skips in Mitcham
Large skip hire shouldn't have to break the bank, and while we do offer huge skip sizes available for you to hire throughout the year, we will never suggest a bigger or more expensive model to you unless we think you will definitely need it for your specific needs.
We're here to help make rubbish removals run that little bit smoother – and that little bit cheaper, too. Need rid of some serious waste or rubbish that you simply can't take to the dump all in one go?
No worries – get in touch with us today and let us know your exact needs.
Affordable large skip hire prices in London and elsewhere can vary – but with Latham Skips, you'll always be presented with a quote and a tariff that's tiered to exactly what you need.
Industrial and building site removals need serious skip services to get rid of a huge amount of bulky waste - we've lined up a fleet of vehicles and an arsenal of brilliant big sizes skips so that your waste removal needs are always catered to.
The best 20-yard skips in our region should always come with affordable price tags – we've got you covered.
Large Skip Hire Near Me
Live or work in or around Bromley, Purley, Greenwich or Wandsworth? Need to know more about affordable large skip hire prices for your specific job or project?
Our industrial skip range is always available for hire throughout the year, and you may even be able to gain access to our expertise and services the same day you call.
Our focus is on providing you with professional care, top quality skips and all the assistance you need in getting that bulky waste up and moving away from your construction site or large-scale project.
Don't get bogged down in hidden fees or rising costs – make sure you call Latham Skips first on 0208 778 9008
What's more, you'll get a big skip to take on board everything you need to get rid of – and we'll take it all away for you without hassle!